Photo Credit: UN.ORG
In 2000, leaders from 189 nations setup the Millennium Development Goals (MDGs) to eradicate extreme  poverty and hunger, to achieve universal primary education, to promote gender equality and empower women, to reduce child mortality, to improve maternal health, to combat HIV/AIDS, malaria and other diseases, to ensure environmental sustainability and to develop a global partnership for development. (UN Millennium Project, 2014).
Millennium Development Goal # 1 Targets and Progress (Adopted from the UN.ORG/MDGs)

GOAL 1: ERADICATE EXTREME POVERTY & HUNGER
Target 1.A: Halve, between 1990 and 2015, the proportion of people whose income is less than $1.25 a day
The target of reducing extreme poverty rates by half was met five years ahead of the 2015 deadline.

The global poverty rate at $1.25 a day fell in 2010 to less than half the 1990 rate. 700 million fewer people lived in conditions of extreme poverty in 2010 than in 1990. However, at the global level 1.2 billion people are still living in extreme poverty.
Target 1.B: Achieve full and productive employment and decent work for all, including women and young people
Globally, 384 million workers lived below the $1.25 a day poverty line in 2011—a reduction of 294 million since 2001.

The gender gap in employment persists, with a 24.8 percentage point difference between men and women in the employment-to-population ratio in 2012.
Target 1.C: Halve, between 1990 and 2015, the proportion of people who suffer from hunger
The hunger reduction target is within reach by 2015.

Globally, about 870 million people are estimated to be undernourished.

More than 100 million children under age five are still undernourished and underweight.
For more on 2013 MDGs Report Click here: http://www.un.org/millenniumgoals/poverty.shtml
According to FAO (2013), 38 countries met anti-hunger targets for 2015. The 38 countries were honored on June 16, 2013 during the FAO Conference in Italy. According to FAO report, 20 countries have achieved MDG number 1. These were:  Algeria, Angola, Bangladesh, Benin, Brazil, Cambodia, Cameroon, Chile, Dominican Republic, Fiji, Honduras, Indonesia, Jordan, Malawi, Maldives, Niger, Nigeria, Panama, Togo and Uruguay. An additional 18 countries reached both MDG 1 and the WFS goals. These countries were: Armenia, Azerbaijan, Cuba, Djibouti, Georgia, Ghana, Guyana, Kuwait, Kyrgyzstan, Nicaragua, Peru, Saint Vincent and the Grenadines, Samoa, Sao Tome and Principe, Thailand, Turkmenistan, Venezuela (Bolivarian Republic of) and Viet Nam. (FAO, 2013).
Countries who achieved MDG number # 1 in Green and Countries who achieved both MDG#1 and WFS goals in Yellow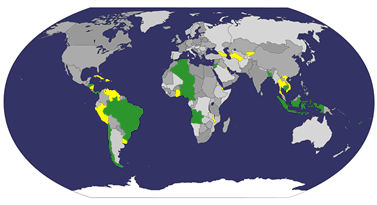 For more on the 2013 FAO Report click here: http://www.fao.org/docrep/018/i3434e/i3434e00.htm
References:
FAO. (2013). The State of Food Insecurity in the World 2013. Retrieved on Feb 3, 2014 from http://www.fao.org/docrep/018/i3434e/i3434e00.htm
World Bank. (2014). Global Monitoring Report 2013: Sub-Saharan Africa
Rural-Urban Dynamics and the Millennium Development Goals. Retrieved on January 31, 2014 from http://siteresources.worldbank.org/INTPROSPECTS/Resources/334934-1327948020811/8401693-1355753354515/8980448-1366122085455/SSA_RegionalBrief_GMR2013_Eng.pdf
World Bank. (2014). Report Card: The Millennium Development Goals, 2013. Retrieved on January 31, 2014 from http://siteresources.worldbank.org/INTPROSPECTS/Resources/334934-1327948020811/8401693-1355753354515/8980448-1366123749799/GMR_2013_Report_Card.pdf
UN. (2014). The Millennium Development Goals Report 2013. Retrieved on January 31, 2014 from http://www.un.org/millenniumgoals/pdf/report-2013/mdg-report-2013-english.pdf